Are You in need of a Makeunder?
Before the Makeunder - Mother Liz & Daughter Vennessa
Sangeeta, (who happens to be my BFF from High School - yea, we go back a long way!) sent me a link yesterday on
Makeunders
on Oprah's site.
I was intrigued, what is this makeunder? As I read I discovered that it was an intervention designed for women who wear far too much makeup on a daily basis, so much makeup that it makes them look wannabe and overdone.
The women who appeared on the show spent upto 20 hours a week, teasing their hair styles and blending their pale blue eye shadows to perfection.
I personally feel that makeup should only subtlety enhance your features, & if it makes you look older, even if you are 16, understand that you are doing something wrong, unless that looking older is your motive.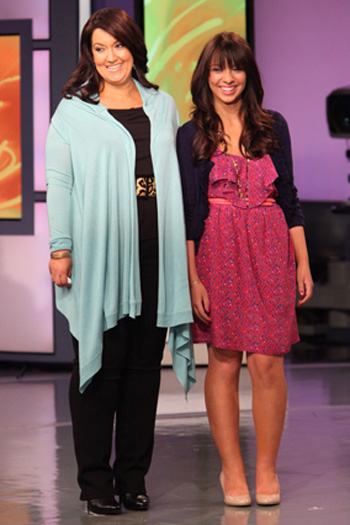 After the Makeunder
Makeup should make you look younger, fresher and healthier than you are and it should do this in a manner so subtle that even in harsh daylight you seem like you have hardly used any makeup.
From the two above images, the most glaring mistake they seem to have made in terms of makeup is the abuse of nude lipstick - lipstick that is beige.
Very few people can carry off beige lipstick without looking older and made-up. In the after picture, the mother has a light peach color lippie and the daughter a pretty pink.
Also gone is the frosty pale eyeshadow blended till the eyebrows, blush has been toned down. And color in their clothes (instead of the top to bottom black) has really lifted their complexion.Overall they both look far more fresher and younger too with their new styles.
While most women in India abhore makeup as something evil, I have also begun to notice some women in need of a makeunder as well. Top of the mind recall is Celina Jaitley. Also I include women who still continue to use a darker lipliner around the lips and forget to blend it in.
For those of you who are new to makeup, you can watch this
video
by the British Makeup Artist Lisa Eldrigde. I love this video and have it saved to refer to very often. I love how she simplifies makeup. On a daily basis when I have like 5 minutes to get ready, I really don't have the time to fuss over my look with brushes or contouring. All I need then is stuff that helps me look awake and fresh. She breaks a number of makeup myths - the most prevalent being that you need to apply foundation all over the face.
I tend to stick with my mascara, cream soft pink blush & non-shimmery lip gloss for a everyday look.
What are your tips to avoid a made-over look? Have you too noticed women in need of makeunders?