Grey Hair - Why & How to Treat it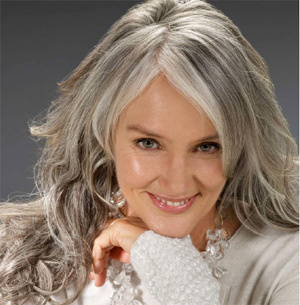 Scientist has finally cracked the mystery - why our hair turns grey.
Apparently hair turns grey as a result of accumulated damage, and not wisdom.
Going gray is caused by a massive build up of hydrogen peroxide due to wear and tear of our hair follicles. The peroxide winds up blocking the normal synthesis of melanin, our hair's natural pigment. All of our hair cells make a tiny bit of hydrogen peroxide, but as we get older, this little bit becomes a lot. Grey hair is hair that has been bleached from within, causing our hair turn gray and then white.
So grey hair is actually damaged hair. Preventing this damage from accumulating might be the key to preventing premature greying.
Damage to hair can occur from simple things like harsh shampoos, use of rough hair brushes, exposure to UV rays, constant straightening, coloring or perming.
Sesame oil is reputed to help enhance the color of hair by promoting production of melanin. An ancient Chinese remedy is black sesame seeds. Eating black sesame seeds reportedly helps "restart" the melanocytes so they will start producing melanin again. Sesame is very rich in copper. Copper is needed for production of melanin, the pigment that gives skin and hair its color.
I have been using Sesame oil for the hair since the last 3 weeks and I have noticed that my hair seems a little darker than normal. My hair is brown in color, since the last 2 months I noticed the appearance of a couple of white strands. But since I have begun to use sesame oil - they have disappeared.
What are your tips & tricks to prevent damage to hair and retain its color?